Novo Bojovic




Michigan Panthers & Oakland Invaders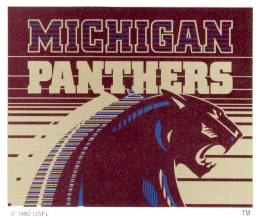 "It was strictly mental, because I never missed a winning kick, " says Bojovic, who is currently the president of B2B Industrial Supply group in the greater Detroit area. "When I missed that winning kick, it was over. I never had a chance, I needed someone to shake-me-up, just say 'listen you son-a-bitch, you're the bad ass, you're tough you can do it…you got us here, forget about that kick, it's gone, it's history.'"
Novo Bojovic - Panthers & Invaders
The USFL - The Rebel League
Copyright 2007
​
Novo Bojovic was unique man, with a different kind of name and he had an accent not heard often in the U.S.
​
Former ESPN and USFL broadcaster Roger Twibell loved saying Bojovic's name during the broadcasts - it just had a certain flair.
But his path to pro football wasn't the norm for this young man. At the age of 15, Bojovic immigrated to the United States from Yugoslavia.
In the '90s, that country would see one of the bloodiest wars in the post World War II era.
But Novo had a special gift beyond his smile that could light up a room.
Bojovic knew how to kick a ball - a soccer ball.
Bojovic put his soccer skills to use as a kicker for his high school football team and won a scholarship to Central Michigan in 1979.
By 1983, Bojovic became a star in the new United States Football League.
In his first USFL game for the Michigan Panthers, Bojovic kicked three field goals in a 9-7 win against the Stallions.
The Panthers marched through the USFL season going 12-6 and winning the Central Division.
Up next it was a home playoff game vs. the Oakland Invaders, where over 60-thousand euphoric fans rocked the Silverdome.
After the game, fans spilled onto[1] the field in celebration of the win.
"We were totally shocked and surprised," Bojovic said. "We have 63 or 64 thousand [fans] in the stadium; we had a rough start then we had a winning streak of six games, then we played the Invaders at home, to see the 63,000 plus in the stadium, that tells you the impact we made in the city of Detroit and the state of Michigan. It was a tremendous feeling that were making so much progress."
Owner Alfred Taubman told the Crain's Detroit Buisness in 2013: "It was a lot of fun. I don't regret it. It was personal money. I could lose it if I wanted to. If I had another chance to do it, I'd probably do it again. This is what we live for, good experience and fun."
"It was a madhouse out there," says Holloway 35 years later in February 2018. "They stormed the field, they tore down the goal posts, it was great."
​