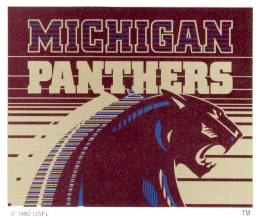 Michigan's 12 wins earned them a home-playoff game against the Oakland Invaders in the semi-finals. Owner Alfred Taubman lowered ticket prices, as more than 60,000 adoring fans rushed through the gates to watch the Panthers beat Invaders 37-21, and earn the right to play in the first USFL Championship. The exuberant fans stormed the field after the playoff victory. "I'll never forget the semi-final against Oakland," says Bentley, with a reminiscent, yet excited voice. "I stayed out there just to feel it and to mingle with the fans. It was one of the most emotional and chaotic scenes I was ever a part of."
Ray Bentley - Panthers & Invaders
Ray Bentley came out of Central Michigan and chose to play with the Panthers to be close to his ailing father, Rahn. Most collegiate players signed with USFL teams because the money was better, but Bentley wanted to remain in his native Michigan – a choice he never regretted.
Bentley remembers when 150 guys tried out for the Panthers in Daytona Beach, Fla., during February of 1983. "It was probably the toughest week of my life," he says. "We hit every play; it was Old School; coach Jim Stanley was one of those tough country-boys. The last man standing at the end of the week made the team."
Bentley, who suffered through seven NFL training camps, felt the most difficult camps were his first two years with the Panthers. "The toughest camp was the first one with the Panthers," he says, as 15 linebackers were vying for starting spots. "It was a real trying experience, but very rewarding."
With so many players in camp, Bentley really didn't have any idea of who the other players were. After practice, the Panthers would run two buses back to the hotel from camp, and Bentley always liked to get on the first bus so he could relax at his hotel, but this one afternoon he had to take the second bus. While the players waited for more than 20 minutes in the sweltering yellow school bus, Bentley got up and asked, "Who are we waiting for? One of the players said, 'Bobby Hebert!' I said, 'Who the hell is Bobby Hebert?'"
Bentley went into the training room to haul Hebert out, and said to the Cajan quarterback, "You better get your butt on the bus or there's going to be a problem!" Hebert jawed back at Bentley in his Cajan drawl, grabbed his ice-pack and went on the bus.
Bentley knew nothing about Hebert, but he knew plenty about the wide receiver Anthony Carter. Although Bentley's dad played for Michigan State, the Michigan receiver was his favorite football player. "You look at him and he's about 160 lbs soaking-wet, and he sounds like a bird when he talked," says Bentley. "But he was the 'best football player' that I've ever played with. He worked harder than anybody; when the ball was in the air, he went and got it. When he got going, everyone caught that fire."
The Panthers, like the Denver Gold and Tampa Bay Bandits, were the darlings of the USFL with their tremendous fan support. After winning their first game against the Stallions, the Panthers lost their next four games. Head coach Jim Stanley realized the season was slipping away and urged management to get some NFL veterans on the field to protect his young quarterback and open some holes for his backs. Tackle Ray Pinney, along with guards Tyrone McGriff and Thom Dornbrook, joined Michigan to help the Panthers win 11 of their final 13 regular-season games. "All of a sudden we had an NFL caliber line," says Bentley. "That's what made the difference for us. We now had a football team and realized this is starting to turn around."